IT Personnel Outsourcing
Commoditech is an IT boutique providing high quality leasing of developers and IT professionals. We are experts focused on IT staffing services, working on international projects in software development, maintenance and integration, testing, analysis and consulting in bigdata, data mining, Deep Learning, Machine Learning and Artificial Intelligence.
Our strategy is to hire the top 10% of technically proven software contractors and offer them the most interesting projects on the market – usually remotely in distributed teams. In this way, we convince the cream of software developers from all over the country to work with us and enable development in the trendiest technologies.
"The most talented people in the world do not work in the same place."(37 Signals)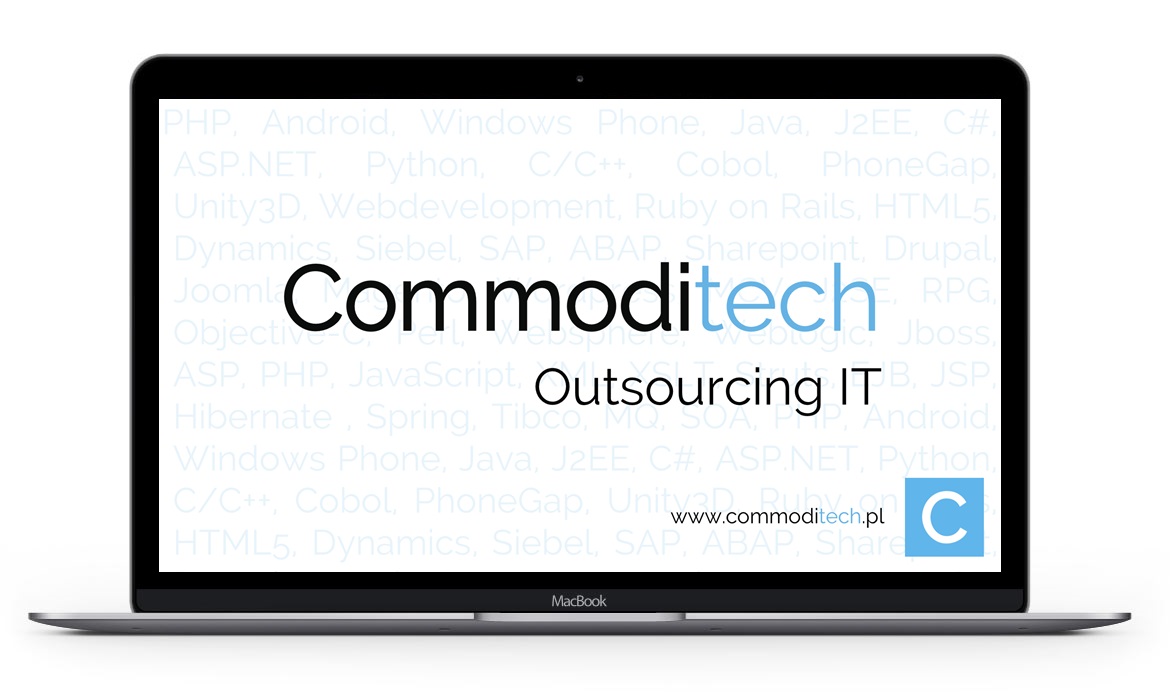 Models of cooperation
Outsourcing of specialists / employee leasing – a model of cooperation used when there are not enough resources on the client's side, or when the scope of work may change or is difficult to estimate and there is a need to quickly expand the team. Cooperation in this formula is usually settled on the basis of time worked, so in the Time & Material formula.
Search services for specialists for direct employment in the client's structures, focused on comprehensive services for recruitment departments of companies with technology background. We provide recruitment services for demanding IT-related specialist and management positions.
Our work is based on consultants' industry experience and in-depth and up-to-date knowledge of the IT and telecommunications labor market. The current employee market poses a new kind of challenge than before and requires a proactive approach, reaching out to candidates yourself and identifying non-salary arguments for accepting an offer.
The project, which is a unique initiative to deliver a specific IT solution, requires both the provider and the Client to have an appropriate approach to its management. In implementation – fix price projects differ from other models by their frozen scope allowing the Client to estimate costs more easily. Commoditech builds a team and management mechanisms to put the project in the right context and then monitor it.
IT team leasing (team leasing) is a service that involves the creation of complete teams of specialists, managed by a Commoditech manager or employees on the client side. This person is responsible for the proper execution and coordination of work. Commoditech ensures that a team with a certain competence profile is built within a specified timeframe, as well as administrative support. The management side assumes responsibility for building knowledge, maintaining continuity of work, implementing employees. Such teams carry out programming, analysis, implementation or maintenance work.
Commoditech offers support in the form of leading, establishing and advising on the establishment of IT Offshoring centers in Poland. Thanks to business partnerships, we have the ability to locate software teams in all major cities in Poland overnight. We enable you to build a competence team, test your idea before deciding to purchase additional infrastructure.
Trusted by big and small
Most often, we work with corporate clients dynamically augmenting development teams on a long-term basis and with international software companies / software houses – servicing short-term needs for programmers and consultants.

Examples of fixprice realizations
Vibrane – optimizing online ads with automated weather analytics
Admin
2023-09-12T09:21:30+02:00
Commoditech distinguishes itself from other providers by its fast response time, efficiency and the fact that they always offer competent people. Most of them work remotely which is made possible by Commoditech's support in supervising and proactively solving problems. As a software developer, our needs are often urgent and unexpected. Commoditech competently meets the support by often proposing candidates the same day we make the request.

Opensky Data Systems
We recommend Commoditech as a trustworthy partner in IT outsourcing. We are satisfied with the company's responsiveness, flexibility, competence of proposed specialists and supervision of ongoing projects. The trust that has been built has enabled us to use contractors in remote work mode.

Unizeto S.A.
We decided to engage Commoditech to service several urgent needs for specialists, developers and test analysts. We have always been able to count on Commoditech to quickly and adequately deliver the required competencies which has enabled us to complete projects on time.We highly recommend Commoditech to companies with IT contracting and Time&Materials services needs

Capita Inc.
Vattenfall IT Services Poland Sp. z o.o. has had the pleasure of working with Commoditech Sp. z o.o. in recruiting IT professionals – mainly Java developers since the beginning of 2013. During this time, the company has become known as a solid and reliable provider when it comes to response time, competence of the candidates presented and communication style. Understanding the work in progress and the competencies needed has allowed us to partner on ongoing projects and expand our cooperation. We recommend Commoditech as a recommendable partner to support recruitment projects in IT.

Vattenfall IT Services Poland Sp. z o.o.
Commoditech specialists quickly and efficiently familiarized themselves with the technical infrastructure and from the first day were helpful in analyzing, solving and forwarding to solve problems related to desktops, laptops, printers, LAN/WAN, mobile devices, support for server administrators in our company.

Both Commoditech's contact persons and the technical specialists delegated to the cooperation proved to have technical knowledge as well as interpersonal skills, which allowed for effective cooperation from the first days of outsourcing.

Moda Forte
We have always been able to count on quick response and support with specialists with adequate competence when needed, and the way of communication and awareness of the specific market of programmers has been helpful many times. We recommend cooperation with Commoditech to companies with a demand for programming applications for mobile devices.

Demant Technology Centre
Commoditech Sp. z o.o. fulfilled the contract in a timely and proper manner.

Capital Police Headquarters
Bardzo solidna firma, współpracowałem z nią ponad rok jako kontraktor. Dwa konkretne i bardzo wymierne plusy: 1. Mimo sporej wysokości - i rozpiętości - podany zakres stawek był najzupełniej realistyczny, a nie (jak to czasem niestety bywa) "clickbaitowy". 2. Gdyby jakaś firma chciała pobić Commoditech pod względem tempa płatności, to musiałaby chyba wysyłać przelewy jeszcze przed otrzymaniem faktury. Nie bardzo wiem, jak dałoby się to osiągnąć w inny sposób : ) Konkretnie, terminowo, kontaktowo, wzorowo. Polecam.
Wojciech Zieliński
2022-11-21
Współpracowałem ponad rok. Wszystko jak w kontrakcie. Płatności następnego dnia po wystawieniu faktury. Żadnych problemów. Miła obsługa, kontakt można powiedzieć natychmiastowy. Zdecydowanie polecam.
Wojciech Staniewski
2022-09-02
Bardzo dobra współpraca i szybkie płatności faktur . Polecam 😉
Profesjonalne podejście rekruterki, bardzo szybkie zatwierdzanie faktur. Dobrze wspominam.
Polecam Commoditech, obsługa jest profesjonalna, płatności są zawsze na czas, a przy tym wszystkim dają sporo możliwości zatrudnienia.
Marcin Stachowski
2021-01-05
Bardzo dobra współpraca na dłuższym dystansie bo prawie 5 lat 🙂 Wyjątkowa zwłaszcza pod względem rozliczeń - płatność realizowana praktycznie od razu po odebraniu faktury. Bardzo dobry kontakt z Prezesem i Pauliną z Administracji w kwestiach formalnych. Polecam 🙂
Jobs are looking for people!
We select innovative projects and technologies. We assign each consultant a mentor who tracks their progress and supports them with career decisions, training needs.
– Private health care
– Sports card
– Flexible form of employment
– A close-knit team without the corporate foam-balling